[ Parking fee payment system ]

This system allows visiting vehicles to enter, but they must pay a parking fee before leaving.
- This operation method can be used in almost all parking lots, including parking buildings, office buildings, hospitals, schools, shopping malls, and airports.

- Registered vehicles can be entered and exited freely by recognizing their license plate number.
- Parking fees can be paid using an insert or contactless credit card.

- Parking fees can be paid at the exit or center of the parking lot.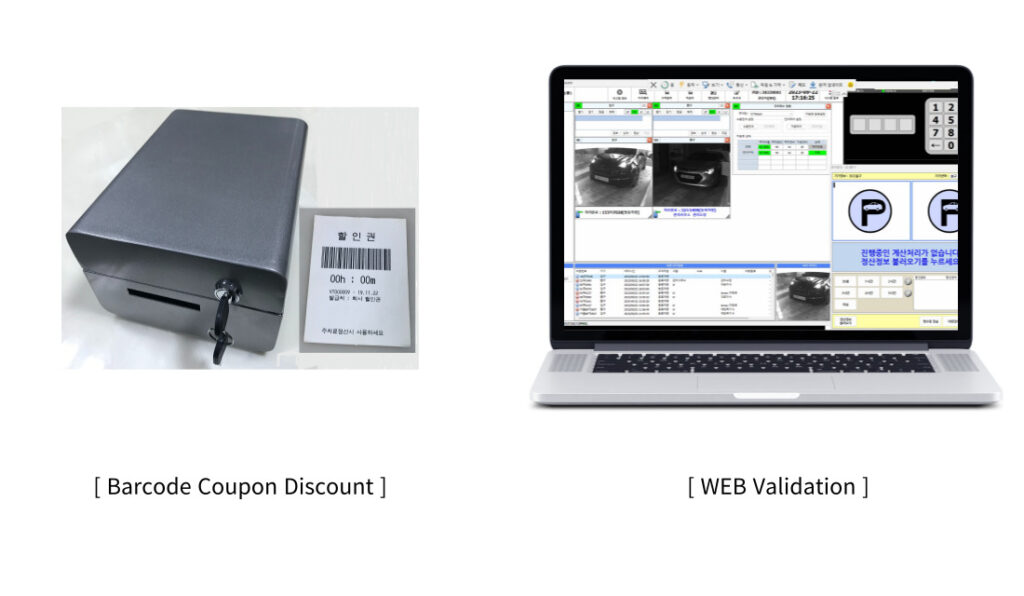 - You can add barcode discount coupons, WEB discounts, or shortcut key discounts for parking fee discounts or free validaion for visiting vehicles.
The car parking system in a parking lot with a lot of cars must make the cars move quickly.
So, you will need a device that can read the license plate and process cars without stopping at the entrance.
Because reading the license plate number, which is a ticketless parking type, is much faster than issuing parking tickets.
Also, this LPR central payment system reads the car number and classifies the car as a registered or visiting car.
So, if the drivers pay the parking fee only at the center, it can be processed quickly at the exit.
Therefore, the drivers can pay for parking by entering the car number at the payment machine located in the center.
However, if an automatic pay station is installed at the exit, drivers can pay parking fee at the exit as well.
Our LPR car parking system has a parking discount function for customers who visit the store.
Therefore, customers can receive a discount with a Web discount or coupon discount when paying for parking.
And once the driver pays the parking fee at the center, the car must leave within a certain time.
After then, our LPR central payment system allows the car to exit when the paid car approaches the exit.