— Parking Systems by DKEE —
LPR parking system, Parking Guide System, loop ciol-free Car Detector




Trusted by leading organisations
we had installed parking management systems of over thousands sites for about 30 years
[ Vision of DKEE ]
We have been leading the parking industry by researching and producing more stable and convenient parking management systems while working as a specialized company for parking control systems for over 30 years.
We will continue to expand into the global parking industry by providing a unique parking management system with more advanced technology.
[ History of DKEE ]
DKEE, established in 1987, has been striving to realize high-quality parking management system by researching and developing various parking management systems that fit the trend of the times.
Our parking system has been installed in over thousands of the domestic and overseas parking lots, including Incheon International Airport.
We produce advanced LPR parking systems, Parking Guide System and loop coil-free Car Detector through our long-term experience of installing parking systems in small, large parking lots, complex building, shopping malls and airports.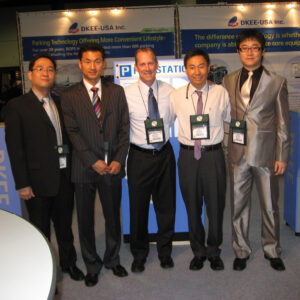 Latest Projects
we had installed parking management systems of over 4,000 sites for about 30 years
DKEE's Parking System -patented
– automatic Smartphone Payment and Find My Car solution
Patented Parking Payment System and Find My Car solutions provide to pay parking fee and display parked information by smartphone App.
Why work with us
We, DKEE is a manufacturer of LPR Parking System, Parking Guide System and loop coil-free Car Detector that is leading trend with innovative technologies for over 30years.
We are proud of to produce parking systems with high quality, durability and convenience for satisfying by our clients.
and we could support technical issues for our clients through internet.
Revenue Generation
We are producing advanced Parking Systems that can give customers many benefits.
Creative Minds
We are always seeking a new solution that customers manage parking lots with conveniently.
24/7 Client Support
Our team can analyze operating status of the systems and treat it or guide the issue to fix by our customer.
Business Collaboration
We are seeking dealers for each country to promote the Parking Business.
We are a member of Parking Association
Why clients says about us
They says that we have many advantages in our parking system to beat their competitors.

I'd like to consider to install the parking guidance system with low cost..

It looks easy to install the vehicle detector.

It seems good that the parking guidance system can be used both indoor and outdoor parking.

This looks good that they said it runs the operation without interruption of the LPR parking system .